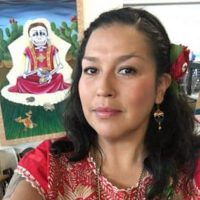 Nuvia Crisol Ruland is a multilingual scientist and artist who is passionate about professional learning and determined to transform education into spaces buzzing with curiosity and creativity.
As a designer and facilitator of professional development, she brings her unique personal and professional experience to support learners in designing their own PBL projects. During her decade as an 11th grade science teacher at High Tech High Chula Vista, Nuvia utilized her background as a research scientist at Arena Pharmaceuticals, Inc. and a visual storyteller of her bicultural Mexican-American upbringing.
The projects that Nuvia and her teaching partners designed were infused with community partnerships that provided young people with opportunities to see themselves as creators, advocates, and activists. Facilitating learning experiences for adults is no different. Her workshops are labs where teachers learn alongside movers and shakers from the community, including students.
As a faculty member of the HTH Teacher Center, Nuvia applies her passion for neuroscience and education in her course, Brain Health and Social Emotional Development to first-year teachers. When she isn't at HTH schools you will find her exploring museums, testing vegan recipes, and dreaming up new projects with her talented husband, family and friends.